Cold Formed Steel Ribs
Continuously Threaded Bars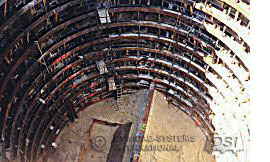 DSI Underground has cold-formed beams for underground supports for over 75 years. Techniques that we have learned about shaping steel for strength, performance, and value in the world's tunnels, mines and shafts can be applied to the benefit of your project.
Our abilities to bend I, WF, and H sections range from 4" to 27" in depth. We have formed W 14" x 287 lb./ft with 2" thick flanges. Curvatures range from a minimum radius of 8 times the beam depth for 4" and 6" sections to 14 times the depth of section for larger beams. We also recommend against the use of lighter weight sections when the radius of curvature is less than 25 times the depth of section.
We are also able to bend more than one radius in a single length of section if compound arcs are specified. While we have worked with 30 foot sections, we recommend they not exceed 25 feet which, incidentally, is convenient for shipment by truck.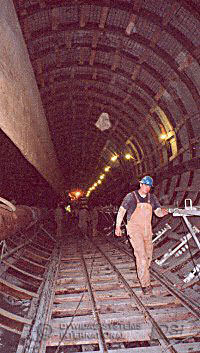 All beams are checked to a template after bending. Both ends must conform to the true template and the maximum departure from the true template is held to (+/-) 3/8" for beams not exceeding 20 feet in length. Tolerance for beams 20 to 25 feet in length are held to (+/-) 1/2"; 25 to 30 feet in length to (+/-) 3/4". Variance is gradual without any abrupt changes in curvature, the tolerance approaching maximum at beam center. Referenced to any 3' segment of curved beam, tolerance is held to within 1/8". If necessary, closer tolerances can be achieved.
It becomes obvious that the uniformity of the material as-rolled is a factor that affects tolerances. The closer the profile of the as-rolled beam conforms to the cross section, the closer and more uniform the tolerances of the finished product will be.
The methods we use do not distort or impair the grain flow of the metal, nor do they reduce the load-carrying capacity of the finished section. In fact, certain characteristics such as camber and flange alignment are improved. Also, it has been our experience that a cold working of steel actually increases the as-rolled yield point. When curved to a minimum radius, some droop may occur to the outer edges of the top flange.
Because every beam necessarily fulfills the specific requirements, prices for our work must be quoted for each inquiry. We are prepared to furnish labor and materials; consequently, we carry structurals with heaviest demands in stock. If the customer prefers to supply material, we will quote labor only.